OCI Partners (NYSE:OCIP) announced its earnings results on Monday. The basic materials company reported $0.35 earnings per share for the quarter, beating the consensus estimate of $0.33 by $0.02, MarketWatch Earnings reports. OCI Partners had a net margin of 7.30% and a return on equity of 16.67%. The firm had revenue of $117.35 million during the quarter.
Shares of NYSE OCIP remained flat at $$9.85 on Tuesday. 2,039 shares of the stock were exchanged, compared to its average volume of 13,513. OCI Partners has a one year low of $6.76 and a one year high of $9.90. The company has a debt-to-equity ratio of 3.02, a quick ratio of 1.03 and a current ratio of 1.14. The firm has a market cap of $843.87 million, a P/E ratio of 34.64 and a beta of 1.16.
OCIP has been the subject of a number of research analyst reports. MED reaffirmed a "buy" rating and set a $15.00 price objective on shares of OCI Partners in a research note on Monday. ValuEngine downgraded shares of OCI Partners from a "buy" rating to a "hold" rating in a research note on Friday. Finally, TheStreet raised shares of OCI Partners from a "c" rating to a "b-" rating in a research note on Wednesday, April 25th. One research analyst has rated the stock with a sell rating, two have issued a hold rating and one has issued a buy rating to the stock. The stock presently has an average rating of "Hold" and an average price target of $11.00.
About OCI Partners
OCI Partners LP produces, markets, and sells methanol and ammonia in the United States. The company offers its products to industrial users and commercial traders for further processing or distribution. OCI GP LLC operates as the general partner of the company. The company was founded in 2013 and is based in Nederland, Texas.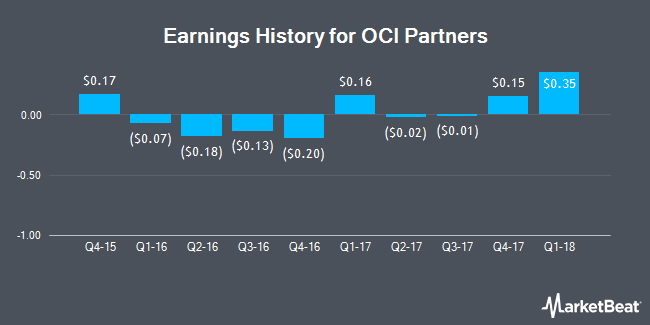 Receive News & Ratings for OCI Partners Daily - Enter your email address below to receive a concise daily summary of the latest news and analysts' ratings for OCI Partners and related companies with MarketBeat.com's FREE daily email newsletter.