Jabil (NYSE:JBL) was upgraded by Zacks Investment Research from a "sell" rating to a "hold" rating in a note issued to investors on Wednesday.
According to Zacks, "Jabil is benefiting from diversification and growing customer engagement. The company continues to be driven by its DMS segment, which is backed by growing healthcare and packaging business. Jabil is also benefiting from its Green Point business. Strong performance of the EMS segment is also a catalyst. The restructuring program is also aiding the company to significantly cut back its expenses while maintaining its production capacities, thereby driving profitability. Shares outperformed the industry in the past year. Estimates have been stable lately ahead of the company's Q3 earnings release. The company has positive record of earnings surprises in recent quarters. However, customer concentration and intensifying competition remain overhangs. Increase in investments in the EMS segment coupled with cost overshoot in the packaging business impacted margins."
JBL has been the topic of several other research reports. Goldman Sachs dropped their target price on shares of Jabil to $24.00 and set a "sell" rating on the stock in a report on Friday, January 26th. Standpoint Research upgraded shares of Jabil from a "hold" rating to a "buy" rating in a report on Tuesday, February 27th. Finally, ValuEngine lowered shares of Jabil from a "buy" rating to a "hold" rating in a report on Wednesday, May 2nd. Two investment analysts have rated the stock with a sell rating, seven have assigned a hold rating and six have assigned a buy rating to the stock. Jabil currently has a consensus rating of "Hold" and an average target price of $32.90.
Jabil opened at $28.11 on Wednesday, MarketBeat reports. The firm has a market capitalization of $4.93 billion, a P/E ratio of 15.20, a PEG ratio of 1.14 and a beta of 0.43. The company has a current ratio of 1.04, a quick ratio of 0.54 and a debt-to-equity ratio of 0.95. Jabil has a 12-month low of $27.73 and a 12-month high of $27.93.
Jabil (NYSE:JBL) last released its earnings results on Thursday, March 15th. The technology company reported $0.66 earnings per share (EPS) for the quarter, beating the consensus estimate of $0.62 by $0.04. The business had revenue of $5.30 billion for the quarter, compared to analyst estimates of $4.91 billion. Jabil had a net margin of 0.60% and a return on equity of 14.31%. Jabil's revenue for the quarter was up 19.2% on a year-over-year basis. During the same quarter in the previous year, the business earned $0.48 earnings per share. equities analysts anticipate that Jabil will post 2.05 earnings per share for the current fiscal year.
In other news, President William E. Peters sold 13,915 shares of the business's stock in a transaction dated Thursday, March 1st. The shares were sold at an average price of $26.91, for a total transaction of $374,452.65. The transaction was disclosed in a filing with the Securities & Exchange Commission, which is available through this hyperlink. Also, Director Thomas A. Sansone sold 15,000 shares of the business's stock in a transaction dated Friday, March 16th. The stock was sold at an average price of $29.88, for a total transaction of $448,200.00. Following the sale, the director now directly owns 184,188 shares of the company's stock, valued at $5,503,537.44. The disclosure for this sale can be found here. Over the last ninety days, insiders sold 77,066 shares of company stock valued at $2,189,368. Insiders own 2.60% of the company's stock.
Several large investors have recently bought and sold shares of JBL. Premia Global Advisors LLC bought a new stake in shares of Jabil during the fourth quarter worth about $174,000. Signition LP bought a new stake in shares of Jabil during the fourth quarter worth about $202,000. Alambic Investment Management L.P. bought a new stake in shares of Jabil during the fourth quarter worth about $215,000. DekaBank Deutsche Girozentrale increased its position in shares of Jabil by 269.5% during the first quarter. DekaBank Deutsche Girozentrale now owns 7,705 shares of the technology company's stock worth $220,000 after acquiring an additional 5,620 shares in the last quarter. Finally, Jump Trading LLC bought a new stake in shares of Jabil during the first quarter worth about $225,000. 97.75% of the stock is owned by institutional investors.
About Jabil
Jabil Inc provides electronic manufacturing services and solutions worldwide. The company operates through two segments, Electronics Manufacturing Services and Diversified Manufacturing Services. It offers electronics design, production, and product management services. The company provides electronic circuit design services, such as application-specific integrated circuit design, firmware development and rapid prototyping services; and designs plastic and metal enclosures that include the electro-mechanics, such as the printed circuit board assemblies (PCBA).
Get a free copy of the Zacks research report on Jabil (JBL)
For more information about research offerings from Zacks Investment Research, visit Zacks.com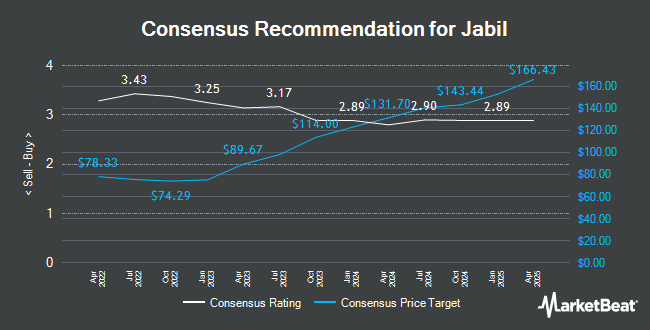 Receive News & Ratings for Jabil Daily - Enter your email address below to receive a concise daily summary of the latest news and analysts' ratings for Jabil and related companies with MarketBeat.com's FREE daily email newsletter.