Tullow Oil (LON:TLW) had its target price decreased by stock analysts at Canaccord Genuity from GBX 260 ($3.37) to GBX 250 ($3.24) in a report issued on Friday, July 27th. The firm presently has a "hold" rating on the stock. Canaccord Genuity's target price suggests a potential upside of 8.46% from the company's previous close.
TLW has been the topic of a number of other research reports. Barclays upgraded Tullow Oil to an "overweight" rating and lifted their target price for the company from GBX 190 ($2.46) to GBX 285 ($3.69) in a report on Thursday, July 5th. Jefferies Financial Group reduced their target price on Tullow Oil from GBX 254 ($3.29) to GBX 250 ($3.24) and set a "hold" rating on the stock in a report on Wednesday, July 4th. Royal Bank of Canada upgraded Tullow Oil to a "sector performer" rating and set a GBX 230 ($2.98) target price on the stock in a report on Tuesday, May 1st. BNP Paribas lifted their target price on Tullow Oil from GBX 250 ($3.24) to GBX 350 ($4.53) and gave the company an "outperform" rating in a report on Wednesday, May 23rd. Finally, Numis Securities reiterated a "hold" rating on shares of Tullow Oil in a report on Wednesday, July 18th. Eight investment analysts have rated the stock with a hold rating and seven have issued a buy rating to the company. Tullow Oil currently has a consensus rating of "Hold" and an average target price of GBX 248.47 ($3.22).
Shares of LON:TLW traded down GBX 1.40 ($0.02) during midday trading on Friday, reaching GBX 230.50 ($2.98). The company's stock had a trading volume of 4,680,946 shares, compared to its average volume of 9,450,000. Tullow Oil has a 1 year low of GBX 142.30 ($1.84) and a 1 year high of GBX 243 ($3.15).
Tullow Oil Company Profile
Tullow Oil plc engages in the oil and gas exploration, development, and production activities. Its portfolio comprises approximately 90 licenses covering 263,820 square kilometers in 16 countries. The company was founded in 1985 and is headquartered in London, the United Kingdom.
Featured Article: Diversification For Individual Investors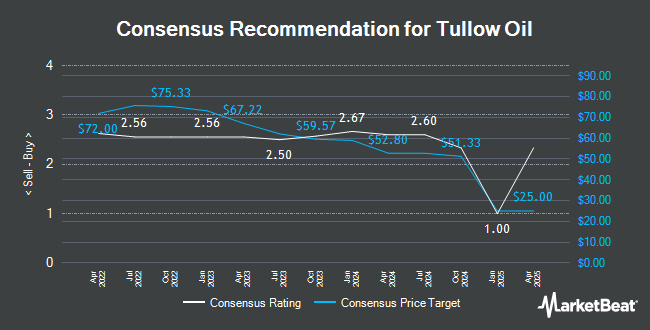 Receive News & Ratings for Tullow Oil Daily - Enter your email address below to receive a concise daily summary of the latest news and analysts' ratings for Tullow Oil and related companies with MarketBeat.com's FREE daily email newsletter.