FB Financial (NYSE:FBK) issued its earnings results on Tuesday, October 23rd. The financial services provider reported $0.68 earnings per share (EPS) for the quarter, missing the Thomson Reuters' consensus estimate of $0.72 by ($0.04), Fidelity Earnings reports. The firm had revenue of $87.11 million during the quarter, compared to the consensus estimate of $84.58 million. FB Financial had a net margin of 23.18% and a return on equity of 13.61%.
NYSE FBK opened at $37.39 on Wednesday. The stock has a market capitalization of $1.14 billion, a PE ratio of 13.98 and a beta of 1.28. The company has a debt-to-equity ratio of 0.22, a current ratio of 0.93 and a quick ratio of 0.84. FB Financial has a 1-year low of $33.12 and a 1-year high of $45.43.
The business also recently announced a quarterly dividend, which will be paid on Thursday, November 15th. Stockholders of record on Thursday, November 1st will be paid a $0.08 dividend. This represents a $0.32 dividend on an annualized basis and a dividend yield of 0.86%. The ex-dividend date is Wednesday, October 31st. This is a positive change from FB Financial's previous quarterly dividend of $0.06. FB Financial's payout ratio is 14.95%.
An institutional investor recently raised its position in FB Financial stock. Bank of New York Mellon Corp raised its holdings in shares of FB Financial Corp (NYSE:FBK) by 11.0% in the second quarter, according to its most recent 13F filing with the Securities and Exchange Commission (SEC). The fund owned 71,046 shares of the financial services provider's stock after purchasing an additional 7,022 shares during the period. Bank of New York Mellon Corp owned 0.23% of FB Financial worth $2,893,000 at the end of the most recent reporting period. 52.27% of the stock is owned by hedge funds and other institutional investors.
FBK has been the subject of several recent analyst reports. TheStreet cut FB Financial from a "b-" rating to a "c" rating in a research report on Friday, October 12th. Stephens restated a "buy" rating and set a $47.00 target price on shares of FB Financial in a research report on Tuesday, July 24th. ValuEngine cut FB Financial from a "hold" rating to a "sell" rating in a report on Friday, October 19th. Finally, Raymond James cut their price objective on FB Financial from $47.00 to $43.00 and set a "buy" rating for the company in a report on Wednesday, October 24th. Two research analysts have rated the stock with a sell rating, two have assigned a hold rating and one has assigned a buy rating to the company's stock. The company has a consensus rating of "Hold" and an average target price of $43.50.
COPYRIGHT VIOLATION WARNING: "FB Financial (NYSE:FBK) Posts Quarterly Earnings Results, Misses Expectations By $0.04 EPS" was reported by Enterprise Leader and is owned by of Enterprise Leader. If you are reading this piece of content on another site, it was stolen and reposted in violation of United States & international trademark and copyright laws. The original version of this piece of content can be read at https://theenterpriseleader.com/2018/11/07/fb-financial-fbk-releases-earnings-results-misses-estimates-by-0-02-eps.html.
FB Financial Company Profile
FB Financial Corporation operates as a holding company for FirstBank that provides a suite of commercial and consumer banking services to businesses, professionals, and individuals. The company operates in two segments, Banking and Mortgage. It provides demand, negotiable order of withdrawal, money market, certificates of deposit, and municipal and savings accounts, as well as time deposits.
See Also: How Short Selling Works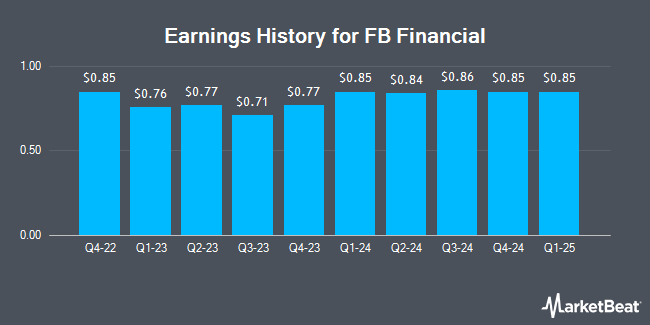 Receive News & Ratings for FB Financial Daily - Enter your email address below to receive a concise daily summary of the latest news and analysts' ratings for FB Financial and related companies with MarketBeat.com's FREE daily email newsletter.