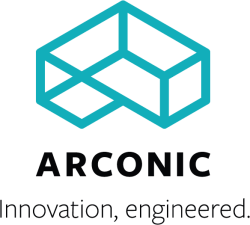 Arconic Inc (NYSE:ARNC) announced a quarterly dividend on Wednesday, January 30th, Wall Street Journal reports. Stockholders of record on Friday, February 8th will be paid a dividend of 0.06 per share by the basic materials company on Monday, February 25th. This represents a $0.24 annualized dividend and a dividend yield of 1.28%. The ex-dividend date is Thursday, February 7th.
Arconic has a dividend payout ratio of 18.6% indicating that its dividend is sufficiently covered by earnings. Equities analysts expect Arconic to earn $1.58 per share next year, which means the company should continue to be able to cover its $0.24 annual dividend with an expected future payout ratio of 15.2%.
Shares of NYSE:ARNC opened at $18.81 on Wednesday. The company has a debt-to-equity ratio of 1.19, a current ratio of 2.03 and a quick ratio of 1.16. The stock has a market capitalization of $9.05 billion, a P/E ratio of 15.42 and a beta of 1.48. Arconic has a 52 week low of $15.63 and a 52 week high of $26.40.
ARNC has been the subject of a number of recent research reports. Longbow Research raised shares of Arconic from a "neutral" rating to a "buy" rating and dropped their price objective for the stock from $23.25 to $18.26 in a research note on Thursday, December 20th. JPMorgan Chase & Co. lowered shares of Arconic from an "overweight" rating to a "neutral" rating and decreased their price target for the company from $24.00 to $22.00 in a report on Monday, January 14th. Zacks Investment Research lowered shares of Arconic from a "buy" rating to a "hold" rating in a report on Wednesday, October 10th. Morgan Stanley set a $22.00 target price on shares of Arconic and gave the company a "hold" rating in a report on Wednesday, October 10th. Finally, ValuEngine downgraded shares of Arconic from a "sell" rating to a "strong sell" rating in a research note on Tuesday, January 22nd. Two analysts have rated the stock with a sell rating, six have assigned a hold rating and five have given a buy rating to the company. Arconic presently has a consensus rating of "Hold" and a consensus price target of $23.02.
ILLEGAL ACTIVITY NOTICE: "Arconic Inc (ARNC) To Go Ex-Dividend on February 7th" was published by Enterprise Leader and is the property of of Enterprise Leader. If you are reading this piece on another publication, it was copied illegally and republished in violation of U.S. & international trademark and copyright legislation. The legal version of this piece can be viewed at https://theenterpriseleader.com/2019/02/06/arconic-inc-arnc-to-go-ex-dividend-on-february-7th.html.
About Arconic
Arconic Inc engineers, manufactures, and sells lightweight metals worldwide. The company operate in three segments: Engineered Products and Solutions, Global Rolled Products, and Transportation and Construction Solutions. The Engineered Products and Solutions produces and sells fastening systems and seamless rolled rings; investment castings, including airfoils and forged jet engine components; and extruded, machined, and formed aircraft parts for aerospace (commercial and defense), industrial, commercial transportation, and power generation end markets.
Recommended Story: Do closed-end mutual funds pay dividends?

Receive News & Ratings for Arconic Daily - Enter your email address below to receive a concise daily summary of the latest news and analysts' ratings for Arconic and related companies with MarketBeat.com's FREE daily email newsletter.