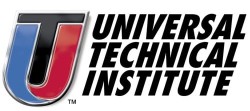 Universal Technical Institute (NYSE:UTI) released its quarterly earnings data on Tuesday. The company reported ($0.36) earnings per share for the quarter, missing the consensus estimate of ($0.11) by ($0.25), RTT News reports. The firm had revenue of $83.05 million for the quarter, compared to analyst estimates of $81.30 million. Universal Technical Institute had a negative return on equity of 24.57% and a negative net margin of 10.31%. During the same quarter in the prior year, the firm earned ($0.10) earnings per share. Universal Technical Institute updated its FY 2019 guidance to EPS.
Shares of Universal Technical Institute stock remained flat at $$3.46 during trading on Wednesday. 22,690 shares of the stock traded hands, compared to its average volume of 39,010. The firm has a market cap of $87.81 million, a price-to-earnings ratio of -2.14 and a beta of 1.72. Universal Technical Institute has a one year low of $1.86 and a one year high of $4.20. The company has a quick ratio of 1.26, a current ratio of 1.26 and a debt-to-equity ratio of 0.32.
UTI has been the topic of several recent analyst reports. Zacks Investment Research upgraded shares of Universal Technical Institute from a "sell" rating to a "hold" rating in a research note on Friday, October 12th. ValuEngine lowered shares of Universal Technical Institute from a "buy" rating to a "hold" rating in a research note on Wednesday, January 30th.
ILLEGAL ACTIVITY WARNING: This news story was published by Enterprise Leader and is the sole property of of Enterprise Leader. If you are accessing this news story on another domain, it was stolen and reposted in violation of United States & international trademark and copyright law. The original version of this news story can be viewed at https://theenterpriseleader.com/2019/02/06/universal-technical-institute-uti-releases-quarterly-earnings-results-misses-estimates-by-0-25-eps.html.
Universal Technical Institute Company Profile
Universal Technical Institute, Inc provides postsecondary education for students seeking careers as professional automotive, diesel, collision repair, motorcycle, and marine technicians in the United States. It offers certificate, diploma, or degree programs; and specialized technical education programs under various brands, such as Universal Technical Institute, Motorcycle Mechanics Institute and Marine Mechanics Institute, and NASCAR Technical Institute.
Featured Article: Why Net Income is Important to Investors
Receive News & Ratings for Universal Technical Institute Daily - Enter your email address below to receive a concise daily summary of the latest news and analysts' ratings for Universal Technical Institute and related companies with MarketBeat.com's FREE daily email newsletter.