SINA (NASDAQ:SINA) is set to announce its earnings results before the market opens on Thursday, May 23rd. Analysts expect the company to announce earnings of $0.34 per share for the quarter. SINA has set its FY 2019 guidance at EPS.
SINA (NASDAQ:SINA) last announced its earnings results on Tuesday, March 5th. The technology company reported $0.22 EPS for the quarter, missing the consensus estimate of $0.70 by ($0.48). SINA had a return on equity of 3.39% and a net margin of 5.96%. The firm had revenue of $573.01 million during the quarter, compared to analyst estimates of $575.29 million. During the same quarter in the previous year, the business earned $0.79 earnings per share. The business's quarterly revenue was up 13.8% compared to the same quarter last year. On average, analysts expect SINA to post $3 EPS for the current fiscal year and $4 EPS for the next fiscal year.
Shares of SINA opened at $53.93 on Thursday. SINA has a one year low of $51.76 and a one year high of $96.71. The stock has a market capitalization of $3.89 billion, a price-to-earnings ratio of 31.72 and a beta of 1.08. The company has a quick ratio of 2.91, a current ratio of 2.91 and a debt-to-equity ratio of 0.23.
SINA has been the subject of several research reports. Zacks Investment Research upgraded shares of SINA from a "sell" rating to a "hold" rating and set a $67.00 price target for the company in a report on Friday, February 1st. Credit Suisse Group initiated coverage on shares of SINA in a report on Monday, February 4th. They set a "neutral" rating and a $58.50 price target for the company. BidaskClub cut shares of SINA from a "sell" rating to a "strong sell" rating in a report on Friday, February 8th. Benchmark raised their price target on shares of SINA from $96.00 to $108.00 and gave the stock a "buy" rating in a report on Wednesday, March 6th. Finally, Deutsche Bank cut shares of SINA from a "buy" rating to a "hold" rating in a report on Wednesday, March 6th. Two research analysts have rated the stock with a sell rating, three have given a hold rating and three have issued a buy rating to the company's stock. The company presently has an average rating of "Hold" and an average target price of $94.50.
TRADEMARK VIOLATION NOTICE: This article was first published by Enterprise Leader and is owned by of Enterprise Leader. If you are accessing this article on another domain, it was illegally stolen and reposted in violation of international copyright law. The original version of this article can be read at https://theenterpriseleader.com/2019/05/16/sina-sina-scheduled-to-post-quarterly-earnings-on-thursday.html.
About SINA
SINA Corporation, through its subsidiaries, operates as an online media company in the People's Republic of China. It operates SINA.com, an online brand advertising portal that provides region-focused format and content, including multimedia news; business news coverage and personal finance columns; sporting events news; automobile-related news; entertainment news and events; technology updates; interactive video products, such as news, sports, and entertainment; and education, digital, fashion, luxury, health, collectibles, travel, and other interest-based channels.
Featured Article: Federal Reserve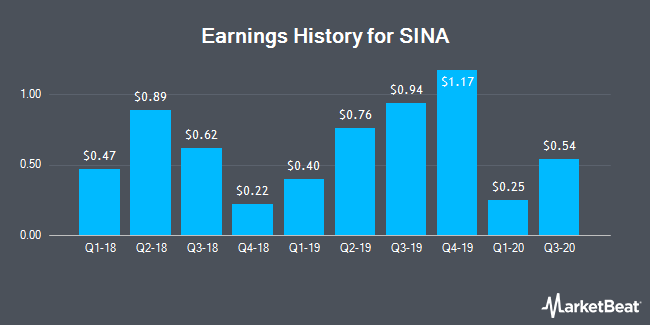 Receive News & Ratings for SINA Daily - Enter your email address below to receive a concise daily summary of the latest news and analysts' ratings for SINA and related companies with MarketBeat.com's FREE daily email newsletter.