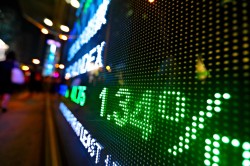 Village Farms International (NYSE:VFF) was downgraded by Zacks Investment Research from a "hold" rating to a "sell" rating in a research report issued to clients and investors on Saturday, Zacks.com reports.
According to Zacks, "Village Farms International Inc. is a producer, marketer and distributor of greenhouse-grown tomatoes, bell peppers and cucumbers primarily in North America. The Company's operating segments consists of Produce business and the Energy business. Produce business markets and sells the product group, which consists of tomatoes, bell peppers and cucumbers. Energy business produces power. Village Farms International Inc. is based in Delta, Canada. "
Separately, Roth Capital reiterated a "buy" rating on shares of Village Farms International in a research note on Monday, June 24th.
Shares of VFF stock traded down $0.76 during trading hours on Friday, reaching $9.28. The company had a trading volume of 2,000,928 shares, compared to its average volume of 1,154,677. Village Farms International has a twelve month low of $2.93 and a twelve month high of $18.10. The company's fifty day simple moving average is $12.02.
About Village Farms International
Village Farms International, Inc, together with its subsidiaries, produces, markets, and distributes greenhouse-grown tomatoes, bell peppers, and cucumbers in North America. The company operates in two segments, Produce Business and Energy Business. It also owns and operates a 7.0 megawatt power plant that generates and sells electricity to British Columbia Hydro and Power Authority.
Further Reading: Day Trading
Get a free copy of the Zacks research report on Village Farms International (VFF)
For more information about research offerings from Zacks Investment Research, visit Zacks.com
Receive News & Ratings for Village Farms International Daily - Enter your email address below to receive a concise daily summary of the latest news and analysts' ratings for Village Farms International and related companies with MarketBeat.com's FREE daily email newsletter.