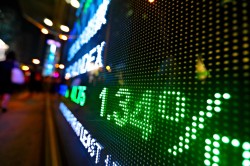 Loopup Group PLC (LON:LOOP) insider Michael Hughes acquired 15,833 shares of the company's stock in a transaction on Thursday, July 18th. The stock was bought at an average cost of GBX 158 ($2.06) per share, with a total value of £25,016.14 ($32,688.02).
Shares of LON LOOP opened at GBX 145 ($1.89) on Friday. The firm has a market cap of $80.11 million and a PE ratio of 60.42. The company has a debt-to-equity ratio of 26.98, a current ratio of 1.81 and a quick ratio of 1.81. The firm has a fifty day moving average of GBX 241.54. Loopup Group PLC has a fifty-two week low of GBX 110 ($1.44) and a fifty-two week high of GBX 475 ($6.21).
Separately, Numis Securities reaffirmed a "buy" rating on shares of Loopup Group in a report on Friday, June 7th.
About Loopup Group
LoopUp Group plc provides software-as-a-service solutions for remote business meetings in the United States, European Union, and internationally. Its LoopUp platform serves mid-to-large enterprises across various industries, as well as SMEs in professional service sectors, such as law, banking, private equity, consulting, and PR.
Recommended Story: What moving averages are used to define a golden cross?
Receive News & Ratings for Loopup Group Daily - Enter your email address below to receive a concise daily summary of the latest news and analysts' ratings for Loopup Group and related companies with MarketBeat.com's FREE daily email newsletter.