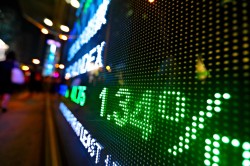 Nighthawk Gold (TSE:NHK) had its target price lifted by Pi Financial from C$0.90 to C$1.00 in a report issued on Wednesday morning, BayStreet.CA reports.
Shares of NHK opened at C$0.54 on Wednesday. The stock has a 50 day simple moving average of C$0.53. Nighthawk Gold has a fifty-two week low of C$0.30 and a fifty-two week high of C$0.63. The stock has a market cap of $122.10 million and a PE ratio of -45.00.
About Nighthawk Gold
Nighthawk Gold Corp. identifies, acquires, explores, and evaluates gold properties in Canada. It owns a 100% interest in the Indin Lake Gold property covering an area of 222,203 acres located to the north of Yellowknife, the Northwest Territories, as well as Colomac Gold Project. The company was formerly known as Merc International Minerals Inc and changed its name to Nighthawk Gold Corp.
Featured Story: QQQ ETF
Receive News & Ratings for Nighthawk Gold Daily - Enter your email address below to receive a concise daily summary of the latest news and analysts' ratings for Nighthawk Gold and related companies with MarketBeat.com's FREE daily email newsletter.