Turning Point Brands (NYSE:TPB) is scheduled to announce its Q2 earnings results before the market opens on Wednesday, July 31st. Analysts expect the company to announce earnings of $0.47 per share for the quarter. Turning Point Brands has set its FY 2019 guidance at EPS and its Q2 2019 guidance at EPS.
Turning Point Brands (NYSE:TPB) last announced its quarterly earnings data on Wednesday, May 1st. The company reported $0.43 earnings per share (EPS) for the quarter, topping the consensus estimate of $0.36 by $0.07. The business had revenue of $91.60 million for the quarter, compared to the consensus estimate of $89.00 million. Turning Point Brands had a net margin of 8.22% and a return on equity of 47.17%. Turning Point Brands's quarterly revenue was up 24.0% on a year-over-year basis. During the same quarter last year, the company posted $0.35 earnings per share. On average, analysts expect Turning Point Brands to post $2 EPS for the current fiscal year and $2 EPS for the next fiscal year.
Shares of Turning Point Brands stock traded down $2.50 during midday trading on Tuesday, hitting $39.98. The company had a trading volume of 5,520 shares, compared to its average volume of 265,862. The company's 50 day moving average price is $50.08. The company has a market cap of $820.01 million, a PE ratio of 24.84 and a beta of 0.67. The company has a current ratio of 1.77, a quick ratio of 0.29 and a debt-to-equity ratio of 2.14. Turning Point Brands has a 1-year low of $26.39 and a 1-year high of $57.06.
The business also recently disclosed a quarterly dividend, which was paid on Friday, July 12th. Stockholders of record on Friday, June 21st were paid a $0.045 dividend. The ex-dividend date was Thursday, June 20th. This represents a $0.18 annualized dividend and a dividend yield of 0.45%. Turning Point Brands's payout ratio is 10.53%.
Several equities research analysts have recently issued reports on TPB shares. Zacks Investment Research downgraded shares of GENEL ENERGY PL/ADR from a "hold" rating to a "sell" rating in a research note on Thursday, July 4th. TheStreet downgraded shares of USD Partners from a "b-" rating to a "c+" rating in a research note on Friday, May 10th.
In other news, Director H.C. Charles Diao bought 2,000 shares of Turning Point Brands stock in a transaction that occurred on Tuesday, May 21st. The stock was purchased at an average cost of $50.54 per share, with a total value of $101,080.00. Following the completion of the transaction, the director now directly owns 12,000 shares in the company, valued at $606,480. The purchase was disclosed in a filing with the Securities & Exchange Commission, which can be accessed through the SEC website. Company insiders own 5.50% of the company's stock.
About Turning Point Brands
Turning Point Brands, Inc, together with its subsidiaries, provides other tobacco products in the United States. The company operates in three segments: Smokeless Products, Smoking Products, and NewGen Products. The Smokeless Products segment manufactures and markets moist snuff; and contracts for and markets loose leaf chewing tobacco products.
See Also: How to Use a Moving Average for Trading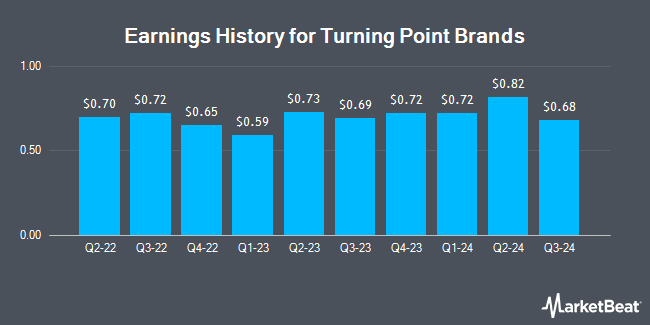 Receive News & Ratings for Turning Point Brands Daily - Enter your email address below to receive a concise daily summary of the latest news and analysts' ratings for Turning Point Brands and related companies with MarketBeat.com's FREE daily email newsletter.