Invesco Mortgage Capital (NYSE:IVR) is scheduled to be posting its quarterly earnings results after the market closes on Wednesday, August 7th. Investors that wish to register for the company's conference call can do so using this link.
Invesco Mortgage Capital (NYSE:IVR) last posted its earnings results on Wednesday, May 8th. The real estate investment trust reported $0.47 earnings per share for the quarter, beating the Thomson Reuters' consensus estimate of $0.44 by $0.03. Invesco Mortgage Capital had a net margin of 1.81% and a return on equity of 12.09%. The firm had revenue of $74.10 million during the quarter, compared to the consensus estimate of $71.30 million. During the same quarter last year, the firm earned $0.45 EPS. The firm's revenue for the quarter was down 12.9% on a year-over-year basis.
Invesco Mortgage Capital stock traded up $0.01 during trading on Wednesday, hitting $16.56. The company had a trading volume of 11,583 shares, compared to its average volume of 808,446. Invesco Mortgage Capital has a 1-year low of $13.67 and a 1-year high of $16.66. The company has a 50 day simple moving average of $16.32. The stock has a market cap of $2.12 billion, a PE ratio of 9.43 and a beta of 0.75.
The business also recently announced a quarterly dividend, which was paid on Friday, July 26th. Investors of record on Friday, June 28th were issued a $0.45 dividend. The ex-dividend date was Thursday, June 27th. This represents a $1.80 annualized dividend and a yield of 10.87%.
In related news, Director John Day sold 12,172 shares of Invesco Mortgage Capital stock in a transaction that occurred on Monday, May 13th. The shares were sold at an average price of $16.01, for a total value of $194,873.72. The transaction was disclosed in a filing with the Securities & Exchange Commission, which is available at the SEC website. Also, insider David B. Lyle bought 7,232 shares of the company's stock in a transaction that occurred on Monday, May 13th. The stock was bought at an average price of $16.04 per share, with a total value of $116,001.28. The disclosure for this purchase can be found here. 0.26% of the stock is currently owned by company insiders.
About Invesco Mortgage Capital
Invesco Mortgage Capital Inc operates as a real estate investment trust (REIT) that focuses on investing in, financing, and managing residential and commercial mortgage-backed securities, and other mortgage-related assets. It invests in residential mortgage-backed securities (RMBS) and commercial mortgage-backed securities (CMBS) that are guaranteed by a U.S.
Recommended Story: What can cause a stock to outperform?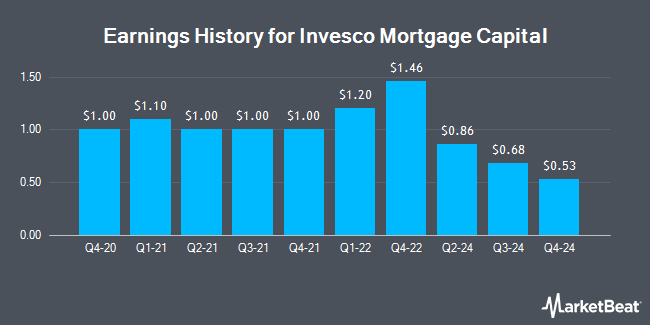 Receive News & Ratings for Invesco Mortgage Capital Daily - Enter your email address below to receive a concise daily summary of the latest news and analysts' ratings for Invesco Mortgage Capital and related companies with MarketBeat.com's FREE daily email newsletter.