Telaria (NYSE:TLRA) is scheduled to be posting its quarterly earnings results before the market opens on Tuesday, August 6th. Analysts expect Telaria to post earnings of ($0.02) per share for the quarter. Telaria has set its FY 2019 guidance at EPS and its Q2 2019 guidance at EPS.Individual interested in listening to the company's earnings conference call can do so using this link.
Telaria (NYSE:TLRA) last issued its earnings results on Thursday, May 9th. The software maker reported ($0.10) earnings per share for the quarter, topping the Thomson Reuters' consensus estimate of ($0.11) by $0.01. Telaria had a negative return on equity of 11.45% and a negative net margin of 12.84%. The company had revenue of $13.60 million during the quarter, compared to the consensus estimate of $11.82 million. During the same quarter in the prior year, the business earned ($0.12) earnings per share. The company's revenue was up 41.7% compared to the same quarter last year. On average, analysts expect Telaria to post $0 EPS for the current fiscal year and $0 EPS for the next fiscal year.
Shares of NYSE TLRA opened at $8.91 on Monday. Telaria has a 1-year low of $2.19 and a 1-year high of $9.30. The stock has a 50-day moving average of $7.76. The company has a debt-to-equity ratio of 0.50, a current ratio of 1.43 and a quick ratio of 1.43. The stock has a market capitalization of $407.79 million, a P/E ratio of -49.50 and a beta of 1.69.
In related news, Director James Rossman sold 173,156 shares of the business's stock in a transaction dated Wednesday, May 15th. The stock was sold at an average price of $8.12, for a total value of $1,406,026.72. The transaction was disclosed in a legal filing with the SEC, which is accessible through the SEC website. Also, COO Katie Seitz Evans sold 7,879 shares of the company's stock in a transaction that occurred on Thursday, May 30th. The shares were sold at an average price of $8.10, for a total value of $63,819.90. The disclosure for this sale can be found here. Insiders own 6.03% of the company's stock.
Several research analysts recently commented on the company. Canaccord Genuity boosted their price target on Telaria from $6.00 to $9.00 and gave the stock a "buy" rating in a research note on Tuesday, April 9th. Zacks Investment Research upgraded Telaria from a "hold" rating to a "buy" rating and set a $8.50 price target on the stock in a research note on Friday, July 26th. Finally, Lake Street Capital reiterated a "buy" rating and issued a $11.00 price target (up previously from $7.00) on shares of Telaria in a research note on Friday, May 10th. Six research analysts have rated the stock with a buy rating, The company currently has a consensus rating of "Buy" and a consensus target price of $7.95.
Telaria Company Profile
Telaria, Inc provides a software platform for publishers to manage and monetize video advertising in the United States. The company offers publishers with real-time analytics, data, and decisioning tools to control their video advertising business, as well as a monetization solution to optimize yield across a publisher's supply of digital video inventory.
Read More: What is a Buy-Side Analyst?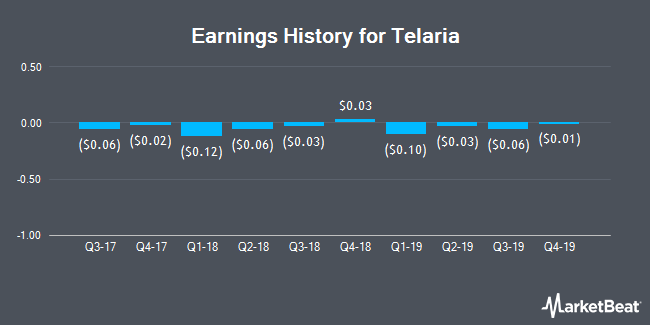 Receive News & Ratings for Telaria Daily - Enter your email address below to receive a concise daily summary of the latest news and analysts' ratings for Telaria and related companies with MarketBeat.com's FREE daily email newsletter.