Kandi Technologies Group (NASDAQ:KNDI) is set to release its earnings data before the market opens on Friday, August 9th.
Kandi Technologies Group (NASDAQ:KNDI) last posted its quarterly earnings data on Friday, May 10th. The company reported ($0.09) earnings per share (EPS) for the quarter. Kandi Technologies Group had a negative return on equity of 6.26% and a negative net margin of 11.32%. The company had revenue of $18.07 million for the quarter.
Shares of NASDAQ KNDI remained flat at $$5.25 during mid-day trading on Wednesday. 80,753 shares of the stock were exchanged, compared to its average volume of 307,372. Kandi Technologies Group has a 52 week low of $3.54 and a 52 week high of $9.23. The company has a debt-to-equity ratio of 0.13, a current ratio of 1.05 and a quick ratio of 0.88. The stock's 50 day moving average is $5.15.
In other Kandi Technologies Group news, CEO Xiaoming Hu purchased 122,032 shares of the stock in a transaction on Wednesday, May 15th. The stock was acquired at an average cost of $4.75 per share, with a total value of $579,652.00. The acquisition was disclosed in a legal filing with the Securities & Exchange Commission, which can be accessed through this hyperlink. Insiders own 27.40% of the company's stock.
A number of research firms have recently issued reports on KNDI. BidaskClub raised shares of Kandi Technologies Group from a "sell" rating to a "hold" rating in a report on Thursday, July 4th. TheStreet downgraded shares of Kandi Technologies Group from a "c" rating to a "d" rating in a report on Thursday, May 23rd.
About Kandi Technologies Group
Kandi Technologies Group, Inc, through its subsidiaries, designs, develops, manufactures, and commercializes electric vehicle (EV) products and parts and off-road vehicles in the People's Republic of China and internationally. It offers off-road vehicles, including go-karts, all-terrain vehicles, utility vehicles, and other vehicles for sale to distributors or consumers; and EV parts comprising battery packs, EV drive motors, EV controllers, air conditioners, and other electric products.
Further Reading: Stop Order Uses For Individual Investors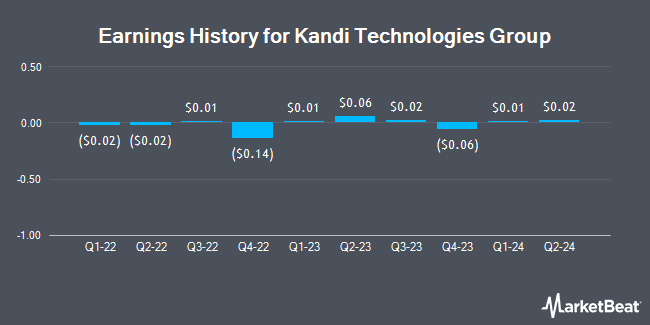 Receive News & Ratings for Kandi Technologies Group Daily - Enter your email address below to receive a concise daily summary of the latest news and analysts' ratings for Kandi Technologies Group and related companies with MarketBeat.com's FREE daily email newsletter.