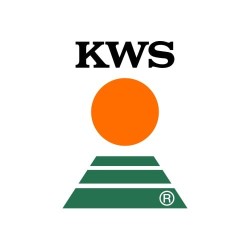 KWS Saat SE (ETR:KWS) has been assigned a consensus rating of "Buy" from the five brokerages that are presently covering the stock, MarketBeat Ratings reports. One research analyst has rated the stock with a hold rating and four have given a buy rating to the company. The average 12-month price target among brokers that have issued a report on the stock in the last year is €325.50 ($378.49).
Separately, DZ Bank reiterated a "buy" rating on shares of KWS Saat in a research note on Friday, May 17th.
KWS Saat stock traded up €0.60 ($0.70) during midday trading on Wednesday, reaching €61.70 ($71.74). The company's stock had a trading volume of 8,961 shares, compared to its average volume of 2,184. The stock's 50-day simple moving average is €62.39 and its 200-day simple moving average is €117.60. The company has a debt-to-equity ratio of 35.83, a current ratio of 2.08 and a quick ratio of 1.57. KWS Saat has a 52-week low of €50.40 ($58.60) and a 52-week high of €70.90 ($82.44). The stock has a market capitalization of $2.04 billion and a P/E ratio of 19.65.
About KWS Saat
KWS SAAT SE, together with its subsidiaries, engages in the development, production, and distribution of seeds for farmers worldwide. The company operates in three segments: Corn, Sugarbeet, and Cereals. The Corn segment offers corn, rapeseed, sunflower, sorghum, millet, and field crop seeds. The Sugarbeet segment provides sugar beet, and energy beet seeds, as well as animal feed.
See Also: How do buyers and sellers choose a strike price?
Receive News & Ratings for KWS Saat Daily - Enter your email address below to receive a concise daily summary of the latest news and analysts' ratings for KWS Saat and related companies with MarketBeat.com's FREE daily email newsletter.