Liberum Capital reissued their buy rating on shares of easyJet (LON:EZJ – Get Rating) in a research report sent to investors on Monday morning, Digital Look reports. They currently have a GBX 690 ($8.58) target price on the stock.
Several other research analysts have also recently weighed in on EZJ. Sanford C. Bernstein set a GBX 500 ($6.22) price target on shares of easyJet in a report on Wednesday, January 25th. Deutsche Bank Aktiengesellschaft raised easyJet to a buy rating and increased their price objective for the company from GBX 410 ($5.10) to GBX 580 ($7.21) in a report on Tuesday, February 14th. JPMorgan Chase & Co. upgraded shares of easyJet to a neutral rating and raised their target price for the company from GBX 370 ($4.60) to GBX 530 ($6.59) in a research note on Thursday, April 27th. Bank of America raised their price target on easyJet from GBX 350 ($4.35) to GBX 400 ($4.98) and gave the company an underperform rating in a report on Wednesday, April 12th. Finally, The Goldman Sachs Group set a GBX 515 ($6.41) price objective on shares of easyJet in a research report on Tuesday, February 28th. One equities research analyst has rated the stock with a sell rating, one has given a hold rating and four have assigned a buy rating to the stock. According to data from MarketBeat, the stock presently has an average rating of Moderate Buy and an average price target of GBX 594.09 ($7.39).
easyJet Stock Down 0.8 %
LON:EZJ opened at GBX 484.50 ($6.03) on Monday. The stock has a market cap of £3.67 billion, a price-to-earnings ratio of -2,202.27, a PEG ratio of 2.31 and a beta of 2.50. easyJet has a 1 year low of GBX 276.87 ($3.44) and a 1 year high of GBX 582.71 ($7.25). The company has a current ratio of 1.34, a quick ratio of 1.09 and a debt-to-equity ratio of 170.15. The stock has a 50-day moving average price of GBX 495 and a two-hundred day moving average price of GBX 450.66.
About easyJet
(
Get Rating
)
easyJet plc operates as a low-cost airline carrier in Europe. It also engages in the sale of holiday packages; aircraft trading and leasing; development of building projects; financing and insurance business; and tour operator activities. As of September 30, 2022, it operated 320 aircrafts, 988 routes, and 153 airports.
See Also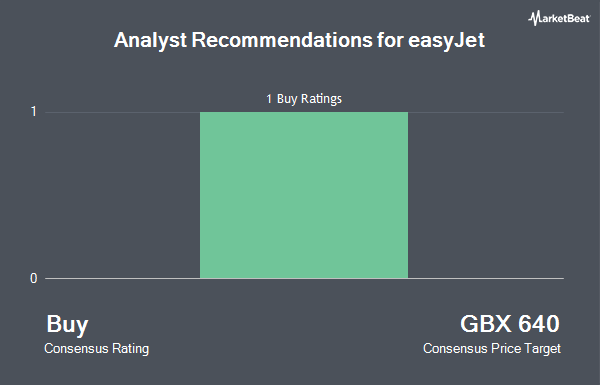 Receive News & Ratings for easyJet Daily - Enter your email address below to receive a concise daily summary of the latest news and analysts' ratings for easyJet and related companies with MarketBeat.com's FREE daily email newsletter.